Core to Archer's mission is advancing the next revolution in air travel, through collaboration, partnership, and advocacy. Most recently, along with our industry peers, we sponsored a reception last week in Washington D.C. that brought together the  Bipartisan Congressional Advanced Air Mobility (AAM) Caucus. The reception was coordinated by the National Business Aviation Association (NBAA), and Archer joined nine other companies and associations in sponsoring the event, which drew members of Congress, Congressional  staff, and industry leaders to discuss the benefits and potential of AAM. Deepening the understanding of eVTOL technology and what will be required in order to bring the benefits to cities across the U.S. is an important step in advancing the eVTOL industry. 
AAM, like our recently announced eVTOL aircraft, Midnight, is poised to revolutionize the way we move and live. These new capabilities could broadly impact the national infrastructure and help propel the United States' economic engine. The Aerospace Industries Association estimates that the AAM market could reach US $115 billion annually by 2035, employing more than 280,000 high-paying jobs in this country alone. As the industry grows and evolves, the need to better understand its impact is clear. 
Formed in June, the bipartisan caucus aims to help educate members of Congress about this next revolution in aviation technology. It's co-chaired by Reps. Jay Obernolte (R-8-CA) and Jimmy Panetta (D-20-CA). Obernolte is a licensed airline transport pilot and member of the Science, Space, and Technology Subcommittee on Energy. Panetta is a member of the House Ways & Means Committee, and is working on ideas to address AAM charging stations. By developing a better understanding of the capabilities and goals of the industry, the numerous environmental and standard of living benefits, and what's needed to make it a reality, Congress is better prepared to support and influence the necessary regulatory framework and infrastructure requirements.
To help build that stronger understanding, we joined with others in our industry to share what can be accomplished by AAM and eVTOL aircraft. In attendance was Dr. Mike Romanowski, Head of Government Relations at Archer. Dr. Romanowski has an extensive background in championing the advancement of new aerospace technologies, having done so at the FAA and the White House. He was joined by fellow Archers Eric Lentell, Chief of Staff and Deputy General Counsel, and Andrew Cummins, Director of Business Development.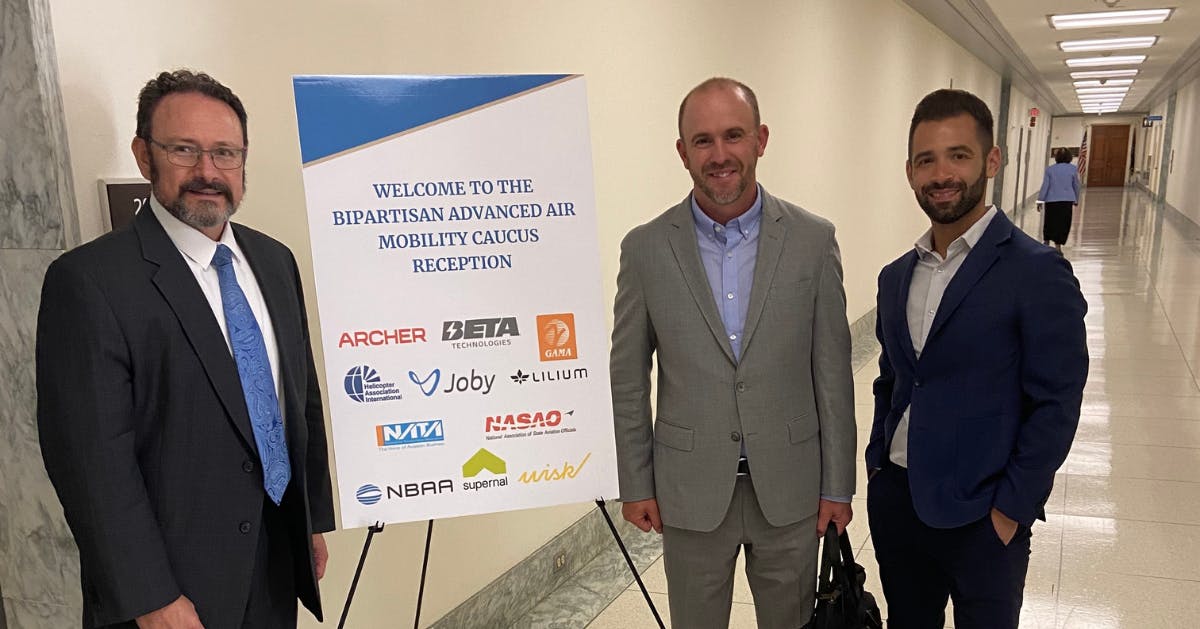 "We deeply appreciate the leadership of the bipartisan AAM Caucus and strongly support its role in educating on the benefits that AAM will bring to the American public," said Dr. Romanowski. "With Midnight, we're developing a new mode of air travel that's safe, quiet and sustainable. Events like this are critical to cultivating the support necessary to make it a reality, and we welcome the opportunity to collaborate on propelling this industry forward."
Though this gathering was one of the first since the caucus was formed, its impact was clear. It sets the stage for further discussion on understanding and establishing what AAM can deliver with key government officials. We can fly with zero emissions from propulsion, with much less aircraft noise, and with far-reaching benefits for our country. Through increasing support from government and regulatory agencies, the future is nearly here. Creating a revolution takes work, determination, and dedication. Together, we can make it happen.