May 11, 2023 | Archer Rolls Out First Midnight Aircraft; Prepares for Flight Test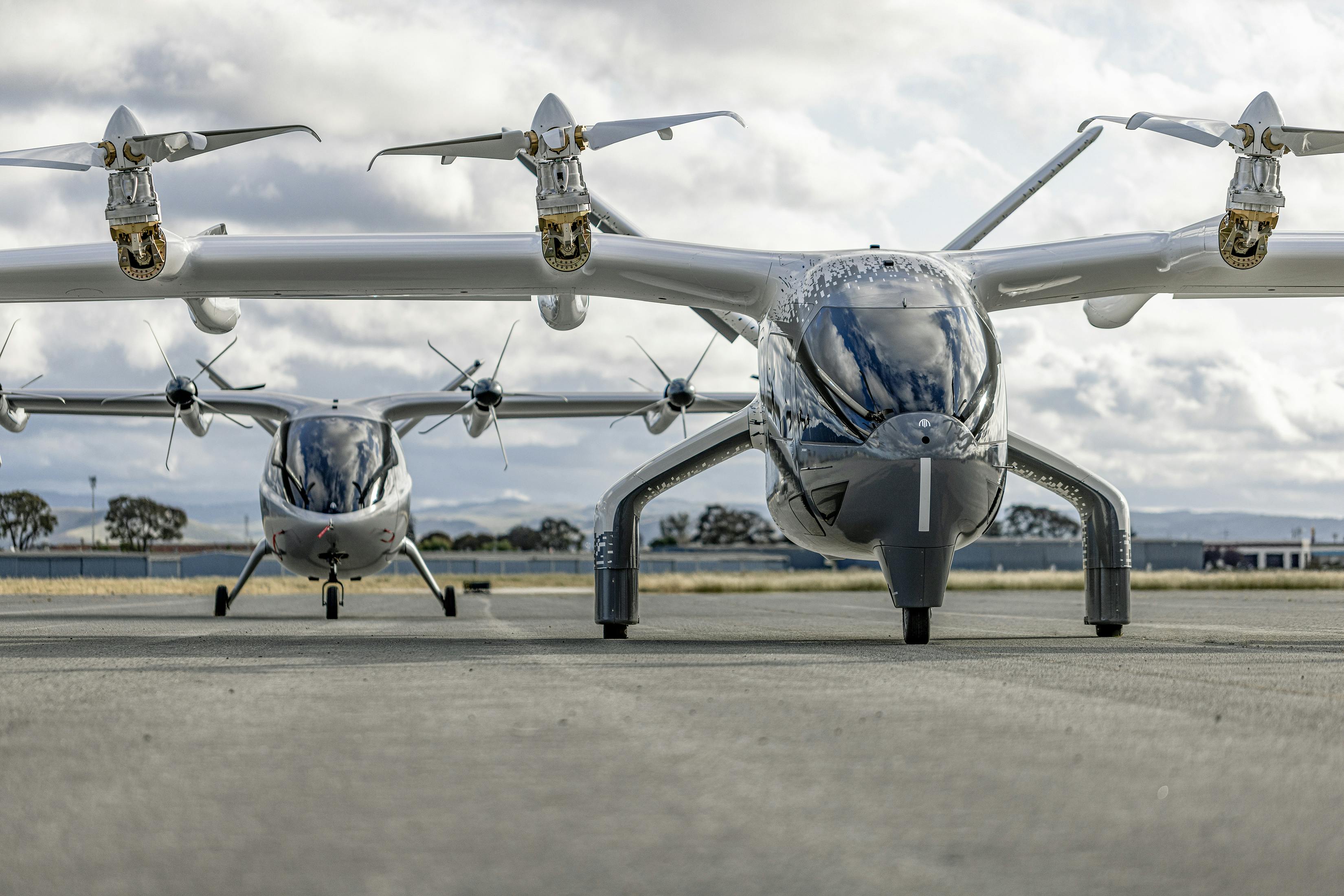 *Photo above shows Archer's Midnight aircraft in the front and Maker in the rear.
After a successful flight test campaign over the last two years with its two Maker aircraft, final assembly is now complete on Archer's first Midnight aircraft and Archer is now preparing for its planned first flight this summer.
The Midnight aircraft has recently garnered significant attention from the U.S. Department of Defense given its payload capabilities.
SANTA CLARA, CA, May 11, 2023 – Archer Aviation Inc. (NYSE:ACHR), a leader in electric vertical takeoff and landing (eVTOL) aircraft, today announced it has now completed the final assembly of its first Midnight aircraft. With final assembly and initial testing complete, last week the aircraft was shipped from Archer's Palo Alto facility to its flight test facility in Salinas, California and reassembled. Archer will now take this aircraft through a series of ground tests leading up to its planned first flight this summer. The Midnight aircraft has recently garnered significant attention from the U.S. Department of Defense given its payload capabilities.
This Midnight aircraft will enable Archer to perform critical "company testing" to accelerate and reduce risk on its certification program with the Federal Aviation Administration ("FAA") in advance of "for credit" certification testing that the company plans to begin early next year with piloted Midnight aircraft. Our strategy with this aircraft is to allow Archer to fly many of the same test points that will be needed during piloted "for credit" flight testing in order to further validate the aircraft before the FAA witnesses and participates in the testing - a customary practice in many aircraft certification programs.
Component manufacturing is already underway for Archer's conforming Midnight aircraft. Archer is targeting the completion of final assembly of its initial conforming Midnight aircraft in Q4 2023 and to begin piloted flight test operations in early 2024. 
"Today we announced our exciting progress that the final assembly of our first Midnight aircraft is now complete and it is preparing for its flight test program," said Adam Goldstein, Archer's Founder and CEO. "This aircraft will accelerate and reduce risk on our certification program paving the way for our team to focus on building and conducting piloted operations with conforming aircraft to support the goal of entering into service in 2025."
Archer's industry-leading team, alongside its key strategic partners, Stellantis and United Airlines, continues to advance its aircraft development and commercial operations with impressive speed and efficiency. The company has also established a significant lead over industry peers on the manufacturing and commercial operations fronts with the build out of its high-volume manufacturing facility in Covington, Georgia underway and announced key strategic electric air taxi routes in New York and Chicago.
With a range of up to 100 miles, Archer's Midnight aircraft is designed to perform rapid back-to-back flights with minimal charge time in between. Archer's goal is to transform inter-city travel, replacing 60-90 minute commutes by car that can take over an hour in traffic with  ~10-20 minute electric air taxi flights that are safe, sustainable, low noise and cost competitive with ground transportation.
About Archer
Archer is designing and developing electric vertical takeoff and landing aircraft for use in urban air mobility networks. Archer's mission is to unlock the skies, freeing everyone to reimagine how they move and spend time. Archer's team is based in Santa Clara, CA. To learn more, visit www.archer.com.
Forward Looking Statements
This press release contains forward looking statements regarding Archer's future business plans and product roadmaps, including statements regarding the development, commercialization, and timelines of its aircraft certification and UAM network buildout. These forward looking statements are only predictions and may differ materially from actual results due to a variety of factors. The risks and uncertainties that could cause actual results to differ from the results predicted are more fully detailed in Archer's filings with the Securities and Exchange Commission, including its most recent Annual Report on Form 10-K, available at www.sec.gov. In addition, please note that any forward looking statements contained herein are based on assumptions that Archer believes to be reasonable as of the date of this press release.  Archer undertakes no obligation to update these statements as a result of new information or future events.
For Media
The Brand Amp
Archer@TheBrandAmp.com
Source: Archer
Text: ArcherIR